Stickers are collectables in My Talking Angela. You can get them by buying them with diamonds, leveling up, or from trading. Some stickers unlock card only clothing and scenery. Leveling up gives you 5 stickers, some are common, rare, or epic. Sometimes you will get duplicates. Duplicate stickers are put in the trade, so you can sell the duplicate stickers to other people. You do this by clicking the bottom right button.Completing a page of stickers rewards you with a certain number of diamonds.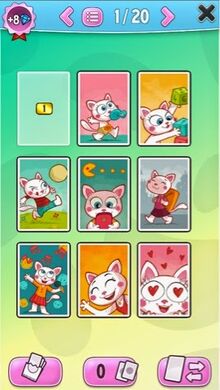 Ad blocker interference detected!
Wikia is a free-to-use site that makes money from advertising. We have a modified experience for viewers using ad blockers

Wikia is not accessible if you've made further modifications. Remove the custom ad blocker rule(s) and the page will load as expected.